NSR NHR-1500 MF/HF
23/12/2021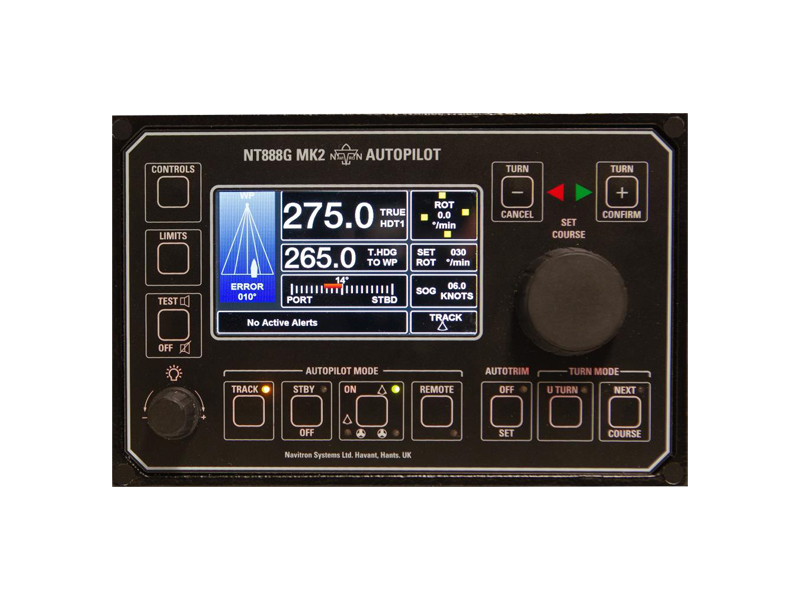 Navitron NT-888G MK2 Autopilot
23/12/2021
Koden MDC-7000P IMO Radar
KODEN presents MDC-7000P series, the new X-Band Black Box type radars designed to comply with the latest performance standards of IMO and IEC. 320mm PPI color IMO display meets to requirements of SOLAS for all ships ≥10,000 GT (CAT1).
IMO approved KODEN MDC-7000P Series are multi-function black box Radars offering the highest level of accuracy, stability and reliability.
Built-in ARPA tracks up to 100 targets
Standard ARPA Target Tracking of up to 100 targets, acquired automatically or manually.
Built-in 900 Targets AIS Interface
Standard fitted AIS interface. When connected to an AIS, the radar displays information on up to 900 vessels equipped with AIS transmitters. Detailed information such as Vessel Name, MMSI Number, CPA, Speed, Course etc can be displayed.
True Trail Function
Clearly identifies moving targets from stationary targets. The display shows exact movement of other vessels like drawing tails. Even when your range is changed, a new trail appears past drawing tails. Three types of shape are available.
CFAR
The CFAR function provides vastly superior semi automatic clutter suppression.  Targets remain easily visible when compared to conventional use of sea and rain clutter controls.
Easy Operation
The Control Unit features customizable function keays, trackball and rotary knobs to ensure the easy and ergonomical operation.
Chart Underlay
The MDC-7000P Series has the ability to display C-Map Charts as chart underlay on the radar. Please note that this function is different to approved ChartRadar – it allows C-Map chart data to be displayed but should not be used for navigation as C-Map charts are non official private charts and not ENC chart.
Key Features

23-inch (CAT1) or 19-inch (CAT2) IMO Monitors
Performance monitor as standard
Target Tracking up to 100 targets
Built-in AIS Interface up to 900 targets
True Trail Function
Chart Underlay
Models

| | | | |
| --- | --- | --- | --- |
| MDC-7012P | 12 kW | 72 nm | 4 or 6 ft open scanner |
| MDC-7025P | 25 kW | 96 nm | 6 or 9 ft open scanner |
Brochure
MED Approval