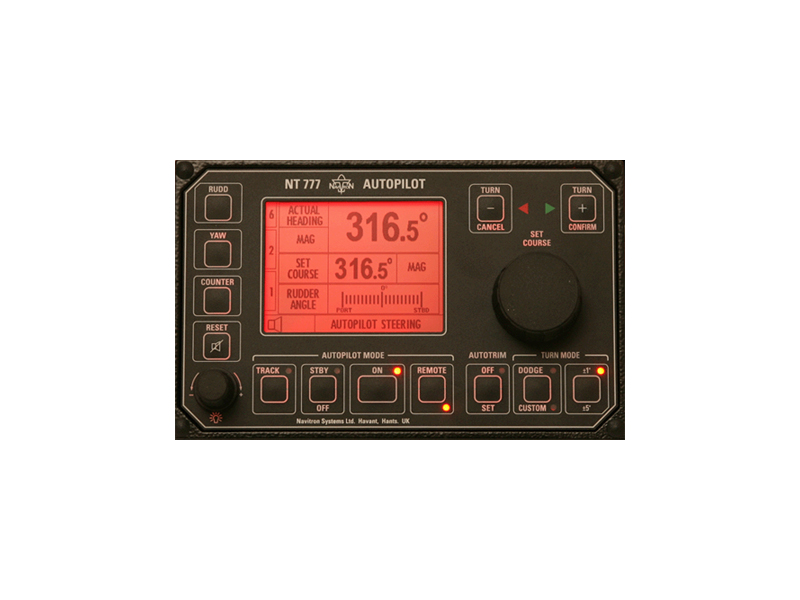 Navitron NT-777 Autopilot
05/10/2020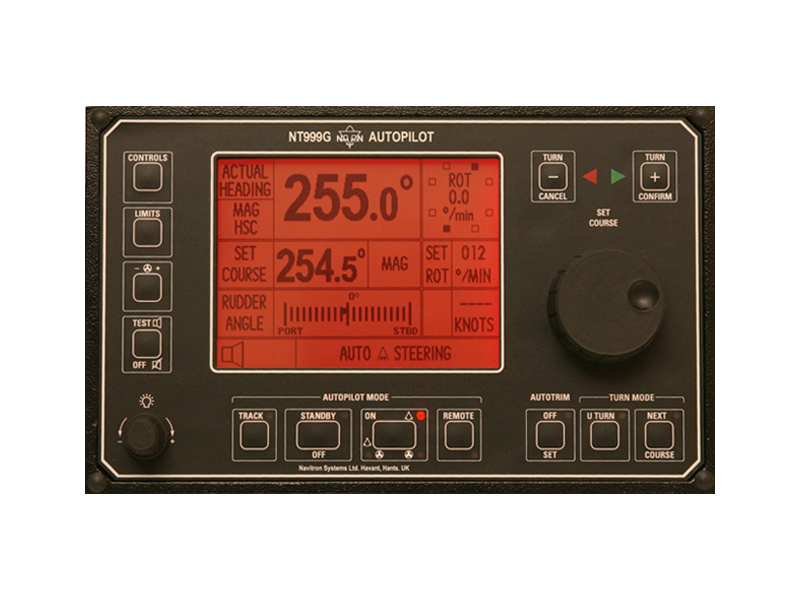 Navitron NT-999G Autopilot
06/10/2020
Navitron NT-995G Autopilot
Navitron Systems Ltd announces the NT995G Autopilot System. Fully MED Module B Type Approved incorporating BAMS compliance with IMO Resolution MSC.302(87) the NT995G is aimed at ocean going vessels of all types and sizes. 
Purpose designed by Navitron Systems Ltd for professionally operated ocean going commercial vessels of all types from typically 1800 to 20,000 gross registered tonnes, the Navitron NT-995G is a powerfully equipped and technologically advanced Autopilot which is 'Wheelmarked' in accordance with MED 96/98/EC and Fully Type Approved to latest IMO and ISO specifications. Multi waypoint track steer facilities are included for use with 'Heading to Steer' data received from ECDIS etc.
Fully programmable to provide optimum installation flexibility and final seagoing performance commensurate with the turn rates and inertia levels of larger vessels, the NT-995G Autopilot is also simple to operate via a traditionally marked rotary Heading selector backed up by CANCEL and CONFIRM keys to preclude accidental course changes as required by Type Approval regulations.
Programmable Rate of Turn (ROT) allows the maximum safe ROT to be set by the operator and can be used in conjunction with automatic waypoint steering data received from ECDIS when operating in the 'track' mode.
The control unit is suitable for console or bracket mounting in bridge or wheelhouse locations. Standard system supply also comprises a Mag Heading Sensor Coil and Rudder Reference Unit for installation to low voltage solenoid operated (11-40Vdc / 5A max) hydraulic steering systems. An optional high voltage (110/220Vac/dc) is also available.
A second Mag input facility is provided to accept NMEA heading data from a proprietary source and dual Gyro input ports are standard to accept NMEA and/or 1:1 isolated Synchro heading data.
Where Step by Step, M-type or non 1:1 Synchro ratios are involved, a Fully Type Approved Gyro interface (type NT925HDI) is available. Similarly, fully Type Approved Analogue and Dual Steering Interfaces are available for Azimuth propulsion units and Dual rudder systems respectively. (See Interface types NT990ASI and NT990DSI).
Key Features
Dual Mag Inputs: Sensor Coil and/or NMEA.
Dual Gyro Inputs: 1:1 Synchro and/or NMEA.
Programmable Rate of Turn : (Degree/Min)
Built in RadioNav and Off Course Alarm.
Automatic Stability : Monitors Rudder speed.
Heading & VDR Outputs: NMEA, Step by Step and Furuno heading. $HTD & $RSA VDR.
Full P.I.D Intelligence
Servo driven Heading Repeater (Standby mode)
Dual Course Setting and Steer on Lock on facility
Full Automatic Permanent Helm (Automatic Trim)
Heading
Rudder angle and ROT data displays
Programmable Rate of Turn and RadioNav mode
Automatic Rudder stabilisation compatible with dual speed steering systems
Operator variable control panel illumination
11-40Vdc Power Supply compatibility
Solid State Output stages (11-40Vdc / 5A Max)
Brochure
Configuration